Nkechi Blessing, a Nollywood actress and influencer, has taught her fans and following about the necessity of adult toys in response to those who criticize her for always discussing them.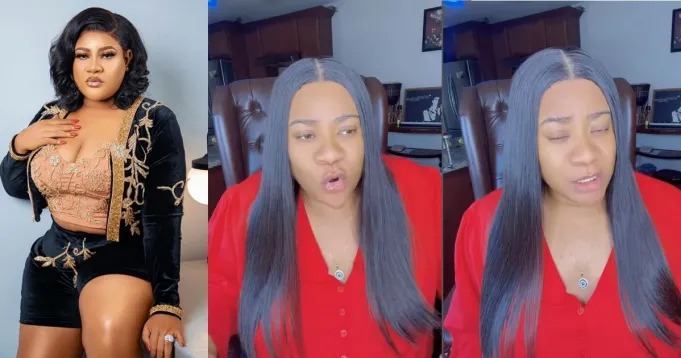 The actress recently flaunted her collection of adult toys on social media after a violent spat with her ex-lover, Opeyemi Falegan, who pointed out that they are also recommended for married couples wishing to spice up their relationship.
Remember how Nkechi Blessing said amid the turmoil that her ex-lover doesn't have functioning manhood and relies on adult toys to fulfill herself— The mother one-handed her followers a bag full of adult toys to back up her allegation.
Nkechi Blessing, in a video she published on her Instagram page to enlighten her detractors, said,
"Every time I come here to discuss about adult toys, I notice some of you condemning me." What exactly is it that you don't understand? Do you know that this adult toy is suitable for both individuals and couples? "All of these things are supposed to liven up your life," says the narrator.
In the meantime, Nkechi Blessing has resorted to social media to praise herself.
The controversial actress posted a video of a pot of stew she was cooking on her Instagram story and praised herself for being "the whole package."
She claims to have excellent cooking abilities, is a good housekeeper, and can please a man in bed.
"I cook, clean, and snack," she wrote. Wetin once more? Bay with all options."