Tonto Dikeh, a Nollywood actress and mother of one, has reacted after a video of her demonstrating her acrobatic abilities went viral.
The actress, who recently visited a water park with her son in Abuja, uploaded a video of some of the enjoyable moments. Tonto Dikeh is seen doing a summersault in the video, which appears to disclose her groin region, eliciting mixed comments from social media users.
Netizens commented that they noticed "something" in the video, while others applauded the actress for understanding how to have fun and bring out her inner child when needed.
Tonto Dikeh responded by sharing a screenshot from the video and addressing people who claimed they'saw something.'
"If you like ZOOM ZOOM ZOOOO THE ONE THING YOU WILL SEE IS A VERY CLEAN  , it smells nice tooo but such a shame y'all cant smell itEven if you see it self you can't TOUCH IT, no be juju be THATTTTTT..Now Dancing ikwere dance for all the people screen shotting", she wrote.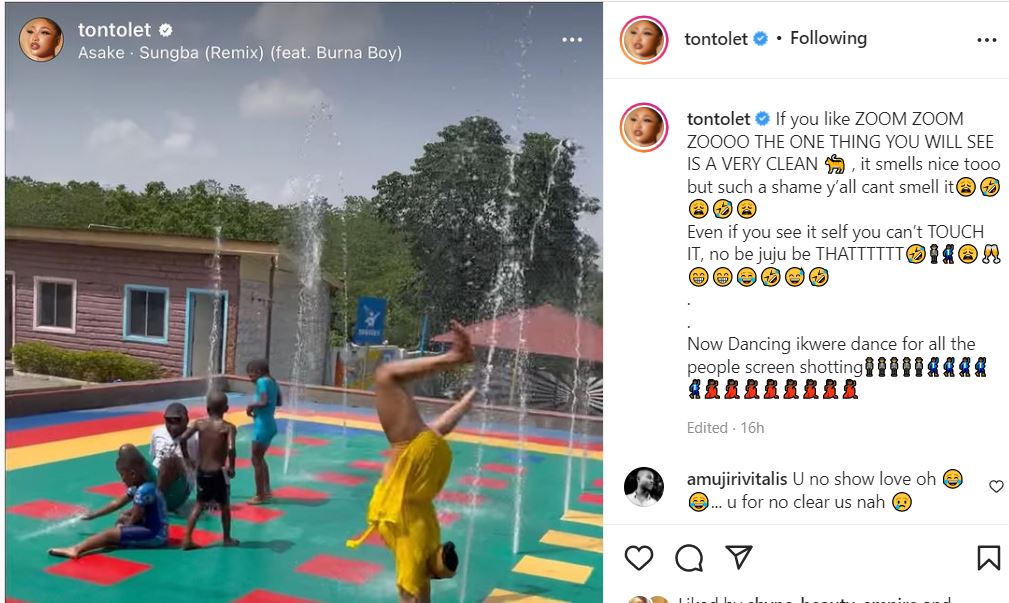 Tonto Dikeh made a joke about witches on her Instagram page a while back.
According to one mother, she experienced a dream in which she was served by several people. There is a widespread notion in this region of the world that witches and evil powers feed individuals in their dreams.
Tonto was apparently fed in her dream but received half fish and half fish, prompting her to take to Facebook to confront the "witches" for disrespecting her. She remarked that she is a queen and should be treated accordingly.
"Even witches are now being parsimonious," she said. "How can you offer me half beef and half fish in my dream?" she wondered. "You folks are so rude," she remarked, noting that they don't refer to me as OBA for nothing. "Dear dream land, respect my actual life. They have no idea who I am.." she captioned.